Sent om sider gör jag lite reklam för den där litteraturvetaren som vägrar dö trots karriärbyte. Tidigare i år publicerade jag en artikel "Axels tribader. Om den lesbiska tematiken i August Strindbergs roman En dåres försvarstal" i den vetenskapliga tidskriften lambda nordica. Om man är nyfiken på hur jag läser Strindberg kan man gå in på lambda nordicas hemsida, välja Artikelarkiv, scrolla ner till 2012, klicka på nr 3, min artikel och ladda hem PDF. För en sådan där akademisk sammanfattning på engelska, se nedan.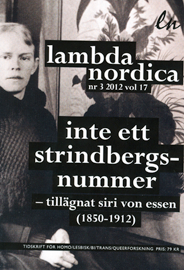 Abstract
The lesbian theme in August Strindberg's novel En dåres försvarstal (Confession of a fool / A madman's manifesto).
August Strindberg wrote about same-sex relationships between women in some of his fiction, even if he portrayed it negatively. In this article I am studying En dåres försvarstal, which was written in 1887–1888. At the centre of my reading, I place the descriptions of same-sex desire between women made by the narrator and main-character Axel. Strindberg allows Axel to do very specific interpretations of three common ideas of the late nineteenth century, namely romantic friendship, "the new woman" and lesbian perversity. The three ideas are interwoven and become each other's both cause and effect.
In the first section – "To paint female friendship black" – I am arguing that Axel refutes the idea of romantic friendship by showing the reader that there is nothing innocent about women's friendships and intimacy. In his view there is always a risk that the friendship turns into a lesbian desire. Women's relationships with  each other thus exclude men, unite women and constitute a breeding ground for emancipation as well as for lesbianism.
In the second section – "To paint women's liberation black" – I am focusing on Axel's criticism of the new woman as a masculine or sexless being, who wants to get away from the responsibilities of being wife and mother, and instead seeks her freedom to lead a fast life. If women liberate themselves there is an impending risk, according to Axel, that their heterosexuality will be obliterated and replaced by lesbianism.
In the third section– "To paint same-sex desire between women black" – I am showing that Strindberg is conscious of both the legislation then in force and the medical "science", and that he is using literary traditions as well as sexology in his portrayals of lesbians. Thus, more than one mode of thought is present in the novel, which one can see just by looking at two of the female characters: there are the sexologists' thoughts about behaviour (Maria) versus identity (Ms. Z.) but also the mannish lesbian of sexology (Ms. Z.) versus the femme fatale of decadence (Maria) as well as the female monster (Ms. Z.). Axel depicts same-sex desire between women as a monstrous threat against both marriage and society, but sometimes also as actual love.